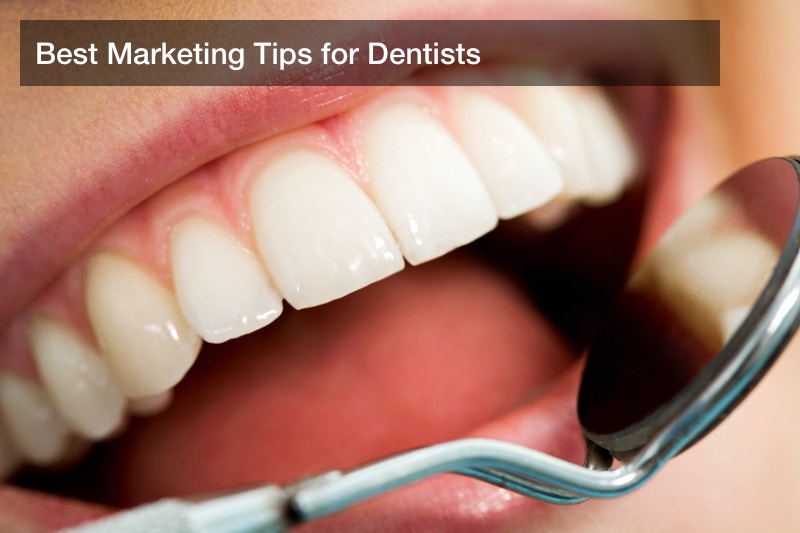 As a dentist, your first thought probably isn't about digital marketing. You have to spend so much time thinking about cavities, fillings, braces, and teeth cleanings that marketing may be the last thing on your mind. But it's vital to your business.
Marketing, especially digital marketing, is the best way that you can reach more people. Getting more clients means getting more business and growing to new heights. Every second, Google alone gets over 75,000 searches, and some of those are people looking for dentists. So online marketing is something you should think about a bit more.
Digital marketing means more than just having a business phone system. It involves multiple facets of online presence for your business. It also means building rapport with your customers, so they are more likely to come back and recommend you to others. Though it may seem confusing, there are some marketing tips for dentists that can really help you out.
Keep it human
Throughout the entire process of marketing, the most important of the digital marketing tips for dentists is to stay human. Let your personality show in everything you do, from social media to your website.
Everyone is human, and people like to be able to see that their care providers are human too. It helps potential clients feel more comfortable with you, and have a better experience at your office.
So don't be afraid to put in some of your personal sense of humor and personality. You can do this through the pictures you choose, the tone you write in, the colors you use, or even by telling jokes. The more unique you seem, the more you will stand out from your competition.
Reputation
While keeping it human, also think about your reputation. Having a good name and public image is vital to maintaining a healthy business. Your public image is the first thing other people will think of when considering dentistry. If you're known as the dentist who yells at people, you probably won't get a lot of clients. So make sure that all of the content you put forth online supports the public image you want to have for your business.
Also consider how you interact with others online. The way you talk to potential clients will be telling of how you act in the office. Remember to be patient and kind, even when the person you are talking to isn't.
SEO (Search Engine Optimization)
This is perhaps one of the most confusing marketing tips for dentists. SEO seems complicated, but it is actually quite simple. At its most basic level, SEO means optimizing all of your online content so that it appears more in search engines.
One of the main ways this is done is through keywords. For example, you may want to use the word " best orthodontist" frequently on your site, because then your site will have a better chance of showing up when someone searches that word.
It also means keeping your content both readable and optimized. Include keywords and the like for search engines, but make sure that it can still be read easily by anyone who comes across it. SEO has a lot of nuances, but keeping these basics in mind will help you out. And you can always do more research or consult a professional if you need help.
Making a good website
A website is like your online storefront. When someone is searching the web, trying to find a good dentist, and stumbles across your site, they should be able to find all of the information they might need to know if they should come to your clinic.
Again, keep SEO in mind here. Also remember to keep it human, and let your personality shine through. Most importantly, make sure your site is informative. List your hours, contact information, services provided, pricing, common questions, and anything else you think potential customers might want to know.
Make sure to be very specific with your services as well. If you provide braces for adults, but not an Invisalign aligner, make that very clear. You want to avoid any confusion that might arise, so prospective clients know exactly what they are getting.
Stay mobile-friendly
These days, almost everyone has a phone in their pocket. That's why keeping all of your stuff mobile-friendly is one of the most important marketing tips for dentists.
This means when you are designing your website, make sure that it runs smoothly on a mobile device. Many common website developers make it easy for you to switch to a mobile view of your site, or even edit the mobile site separately. This will ensure that your site's viewers have a smooth experience whether they are on a computer or their phone.
Blogging
It seems like everyone has a blog. From fast food companies to schools to freelance writers, everybody wants their own blog. But there's a simple reason why it's included in the marketing tips for dentists: it works.
Having your own blog is a great way to grow your business. You can talk about ideas and topics that are relevant to your field, like how to take care of your teeth and what foods are good for a healthy mouth. It lets you inform potential clients, and build a relationship with them.
Blogging, especially with SEO, can also grow your outreach. It will increase your exposure to help you bring in more clients, so your business can continue to grow. And over time, it even has the potential to bring in a profit on its own, from things like advertising and sponsoring.
Social media
Much like blogging, everyone has social media. But again, it's because it works. Social media is a great way for you to reach more people, inform clients, and share your personality.
When managing your social media, again remember to keep it human and think about your reputation. And you can make use of SEO, hashtags, and other things to help you reach more people. Most importantly, be sure to use a location in things like Instagram photos. This means that more people in your area will see it, and after all, you can't provide teeth cleanings online, so your main audience will be local.
Locality
While we have talked a lot about digital marketing, those aren't the only marketing tips for dentists. Local marketing will help you greatly, as it gets people in the right area to be interested in your business, so you can provide more dental care services.
There are a lot of ways to do this. You could put roadside signs with info about your business. You could advertise in the windows of local food restaurants. Or you could even hire your own sign spinner.
These are just a few options for local advertising, and there are dozens more you could choose from, or even find your own. But another thing you can do is to get your business in local listings.
There are a lot of websites out there that keep listings of businesses in a certain area or a certain field. Make sure to get your business listed in these places, and that the information is accurate. Google Maps is just one of many examples of listings like this.
Email marketing
Similar to SEO, email marketing seems more complicated than it is. All it means is that you can have a list where people can subscribe to receive emails from your business. These emails can be product or service advertisements, informative snippets, or even your blog posts.
Email marketing serves two purposes. First, it gets your name in people's inboxes, so they are less likely to forget about you and more likely to come back. It means that you can get more exposure, which is what marketing is all about.
The second purpose is to build rapport. If your emails contain information that will be beneficial to the readers, then they will get more out of it. This makes them think better of your business and trust you more. Again, this leads to people coming back to your business and recommending you to others, which is why it's a great part of the marketing tips for dentists.
Pay Per Click (PPC) Advertising
PPC advertising is one of the more traditional marketing tips for dentists. PPC means that you pay for an advertisement to appear through a place like Google, and pay for every click that your ad gets. The more clicks, the more people who are interested in your business.
When doing this, remember two important things: SEO and audience. For SEO, make sure to keep your content short, informative, and optimized. If you are a family dentist, include the word family dentistry. This will help get your information across quickly, as you want people to click on the ad fast, or they will move on.
Second, consider the audience. Many PPC campaigns allow you to choose the audience that sees your ad. In terms of geographical location, it makes the most sense to target the ad at people who live in your area. Also, think about the type of people who will be seeing the ad. If you don't provide children's dentist services, would you want your ad on a children's website?
PPC advertising is a great, and fairly simple, way of growing your business. When it comes to marketing tips for dentists, that's one of the ones you will see time and time again.
Advertising with schools
If you are a dentist for children, advertising with schools is practically a must-do marketing tips for dentists. This is the group that makes up a large part of your client base, so it makes sense to advertise there.
That doesn't mean you should just start plastering posters in school hallways, though. Instead, advertise where the parents will see it. If the school has a newspaper or magazine, see if they allow advertisers. Or contact the school to see if you can get an ad on their website.
These are places where parents will be likely to see your ad. And then, when they're thinking about where to go to the dentist, they'll remember your name and visit your website, which you've already optimized, and you'll have yourself a new client.
If you do family orthodontics, keep that in mind for all of your advertising as well. Even though the parents are your target, you want to keep it kid-friendly and inviting. After all, kids hate going to the dentist, but if they like the look of your ads, they may feel a little less trepidation about coming to you.
You can do this through a variety of means. Using bright colors, cartoonish characters, and fun language are all great ideas. Think about what kids would like seeing, and what would make parents trust your business, and work from there.
Security
Of course, while doing all of your digital marketing, you need to keep things secure. You may have confidential healthcare information, so a breach in your system could mean contacting corporate litigation attorneys.
It is a good idea to keep your marketing and patient care systems separate, to be as careful as possible. But no matter how careful you are, mistakes can still happen, and bad people can be very creative. So don't hesitate to hire professional managed IT security to keep your systems safe.
Marketing for days
That was a lot of information, and it only just scratches the surface of the world of marketing tips for dentists. You have to remember to keep things human, as people love to be reminded that dentists are people too. And you have to think about your reputation, and how you will manage that.
Perhaps you need to build a stronger website, or you want to start a blog. Or maybe you want to do more kid-centric advertising. And you want to hire a professional security company to keep all of your information safe.
No matter what you do, remember to have fun, and don't stress yourself out too much. You can always ask for help, or hire a professional to give you guidance. After all, your most important job is taking care of your patients, and digital marketing, though vital to your business, comes after that.