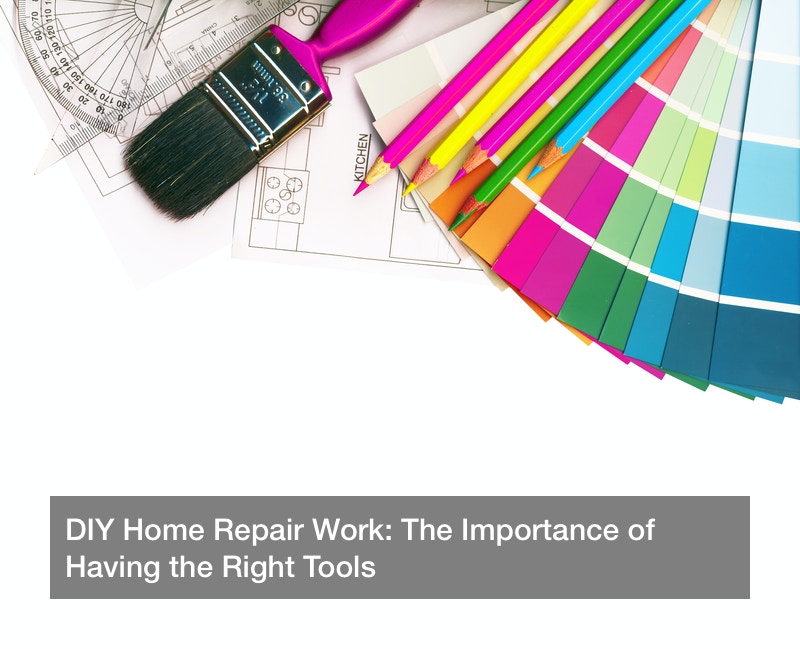 The vast majority of homes are not new construction projects. According to Comfy Living and Forbes, as many as 80% of U.S. homes are a minimum of 20 years old. During those 20 years or more, small things are bound to crop up. Thankfully, many of these things are relatively simple fixes that you can do on your own… with some caveats.
Nearly a third — or 31% — of homeowners who tackle DIY projects and repair describe their experience as positive and problem-free. Of course, if you are investing your time and effort into do-it-yourself (DIY) home repair, chances are you would like to increase your odds of success. You can do that with the right tools. Here are some of the most common repairs and the tools you need to complete them.
Fix Drafty Front Doors
One of the easiest ways to fix a drafty door is to install a new door sweep. Whether your door currently does not have a sweep or its sweep is worn and weathered, a new sweep will significantly reduce drafts in your home. Here are the DIY tools you will need for this fix:
a tape measure
a Sharpie
a power drill
a Phillips head screwdriver
The process to install a new door sweep is relatively simple. Start by measuring your door. Once that is complete, trim the door sweep to match the width of the front door if necessary. Place the sweep against the door, and use a Sharpie to mark where you will need to drill holes to install the sweep.
A power drill is one of the more expensive DIY tools, but a worthwhile investment. It is a tool that will serve you well for a variety of repairs and home improvement projects. Using that drill, drill holes where you marked the bottom of the door. Use a Phillips screwdriver to attach the sweep to the door, loosely at first. When the sweep is level and in place, fasten all screws tightly in place.
At the hardware store, choose between varieties of sweeps that are easy to install, nearly invisible once installed, or airtight even if you have uneven floors.
Take this time to consider whether your front door needs any other upgrades. Now that you are devoting your attention to it, does it need a fresh coat of paint? What about new locks? If you do not have a deadbolt on your front door, contact a locksmith service to get one installed. This small upgrade will drastically improve the safety of your home. "Locksmiths say deadbolts are key to home security," Angie's List reveals.
If you have successfully sealed up the front door, do not stop there! Break out your DIY tools to weatherproof interior windows as well.
If you have condensation buildup, fog buildup, or leaky windows, you may assume the window needs to be replaced altogether. Thankfully, that is not always true. There are much cheaper fixes that can put an end to leaks and condensation. Consider these DIY home repairs first before shelling out money for an entirely new window.
Replace existing window gaskets. Many windows that are not made out of wood — including vinyl windows, composite windows, fiberglass windows, and metal windows — may be sealed with gaskets. Generally speaking, windows made from any one of these materials are hardy, with the potential to last up to 20 years. The gaskets sealing the windows do not last quite as long, however. With some simple DIY tools and a little bit of knowledge, you can easily replace them.
For this repair you may need a paint scraper or utility knife. You will definitely need a tape measure and a strong gasket or weatherstrip adhesive. Use the utility knife or paint scraper to remove the existing gasket. You may be able to do this step by hand if you prefer. Once removed, use your knife to remove any remaining debris or gasket stuck on close to the window frame. Measure the window and trim the new gasket as necessary. Apply the adhesive directly to the gasket and press onto the window frame. Adhesive is available in different colors, like white and black, to match the color of your window.
Reinforce drafty windows with weatherstripping. Some windows may not have any existing gaskets or seals. You'll have to install them. V-Flex or V-seal weatherstripping is often the easiest to install. Use a measuring tape to measure your window and cut the weatherstrip to your desired length. Weatherstrips typically have a sticky or adhesive backside. Peel off the protective coating exposing the adhesive and carefully apply to the edges of your windows.
Keep Your Air Conditioning Running At Its Best
AC maintenance is easily something you can take care of yourself. Plus, routine AC maintenance requires very few DIY tools.
For a well-tuned air conditioner or AC unit, make sure to do the following:
Change the filter monthly or bi-monthly. How frequently you change your filter may depend on personal preferences or your particular life circumstances. For example, it is wise to change filters monthly if you own pets or if you suffer from seasonal allergies. This will keep the air quality in your home as high as possible. For those without any specific concerns, swapping out filters bi-monthly may suffice.
Clean AC coils. To ensure that your air conditioner runs at maximum efficiency, keep the outdoor condenser unit coils free of debris and buildup. You can do that with a drill, gloves, a hose and/or spray bottle, a coil comb, and coil cleaner. The first step is to make sure the power is off. Use the drill to remove the very top of the condenser unit. Just remove the bolts on the outer edge. You want to remove the top as a whole piece with the fan still attached. Remove any caging as well. Using gloved hands, pick out any large pieces of debris from the base and coils. Use a comb brush to get between the individual groves. Once that is complete, you can hose down the condenser unit and use a coil cleaner to remove any remaining residue.
Trim bushes, plants, and foliage. Another way to ensure that your AC remains running at its best is to take preventative measures to keep debris out of your condenser. Use garden shears, a weed wacker, or an electric trimmer to keep any plants nearby the unit at bay.
Install New Fencing
Wooden fences can be striking and full of character. Unfortunately, their coveted looks come with quite a few drawbacks. Wood is not particularly long-lasting, typically holding up just five to 10 years. Wood is vulnerable to rot, fungus, and termites. Over time, wood may crack, warp, fade, sag, or become otherwise deformed. As such, it is also one of the most expensive materials to maintain.
Enter iron fencing. Iron fencing, such as a chic wrought iron fence, looks great and, most importantly, holds up great, too.
To install an iron fence, start by setting the stage with stakes and string. This helps you envision where the fence will go and determine the exact dimensions and angles your fence needs to be. Dig holes for the posts and set the posts inside with tightly packed dirt and concrete. Once the concrete is dry and the posts are set, install fence panels one-by-one by lining them up with the given brackets.
Instantly Spruce Up Rooms
If you want to add instant charm to the rooms in your home, take another look at the light switch and outlet covers. Replacing both require more or less the same DIY tools.
If the outlet or light switch is showing visible signs of damage, like cracks and chips, prioritize this fix. If not, old light switch cover plates and outlet covers can be swapped out for ones that are new and stylish.
When installing a new light switch cover plate, turn the power off and remove the old one using a screwdriver. Take that cover plate with you to the hardware store so you will know the exact height and width when purchasing a new one. You can use detailed photographs and measurements if you prefer. While it depends on the exact cover you buy, most run just $5 to $10. When you return home, hold the cover carefully in place and screw in the new cover about halfway. Make sure the cover plate is straight and centered, and then securely screw the new light switch plate into place.
For the most part, it is just as simple to replace an outlet cover. Here are the DIY tools you will need for this repair: a rubber-coated screwdriver, needlenose pliers, a voltage checker, wire strippers, and wire cutters. The initial steps are more or less the same, but replacing an entire outlet will require some minor electrical work. Always make sure the power is off, double-check this with a voltage checker, and carefully disconnect and reconnect one wire at a time.
If you have any reservations about working with wiring, hire a professional to take care of any electrical installations or repairs. Your safety should be your top priority.
Fix Toilets And Leaky Faucets
Did you know that many residential plumbing problems do not require a visit from a professional? Gather a plunger, plumbing snake, a Phillips screwdriver, an adjustable wrench, and a set of hex keys. These are the DIY tools you will need to fix broken toilets and leaky faucets.
Fix a clogged toilet simply by using a plunger, purchasing an inexpensive plumber snake online, or using very hot (but not quite boiling water). For the last technique, pour a pot of hot water down the toilet and do it slowly from about waist height. By pouring the water from up above, you give it enough momentum to flush through the toilet and dislodge the clog.
Fix leaky faucets by turning off the water, removing the handle, and removing the cartridge. (You will need a wrench for this!) Install a new cartridge and replace the handle. Turn the water back on and run the water for a bit to ensure both the hot and cold water is working.
Replace Old, Ratty Rugs And Dated Tile
Fitting rooms for new carpet and tile can be a DIY project — with a little patience and dedication. A fair word of warning: you may need more than just your traditional DIY tools for these projects. However, taking them on your own can save you a considerable amount of money. Let's take a closer look at the process of replacing carpet, for example.
Calculate how much carpet you will need. While it is possible for mathematicians to work it out on their own, there are many free carpet calculators online you can use to easily determine how much carpet it will take for any given room. Tear out the existing carpet and padding. Wear a dust mask and gloves, and simply go for it. Pull back the carpet and make three-foot cuts with a utility knife, and pull it up and off the floor. If tack strips are in good condition, reuse them for the new carpet. Place the carpet pad carefully and make sure its flat before stapling it down. Attach the carpet to the tack strips, lay it flat, and tuck the edges snug against the wall.
The ideas above are only the beginning. Keep your DIY tools handy for even more projects such as installing a new garage door and garage door hardware and tackling relatively straightforward window repairs.
According to Home Selfe, 30% of homeowners do not have the funds for home repairs. That statistic isn't nearly as bleak as it sounds when you consider that the majority of repair costs go to labor. If you can do it on your own, you can pay for parts and DIY tools for a markedly lower and much more affordable price. Join the 73% of homeowners who believe they have the know-how and/or learning power to tackle DIY repairs. Use the tips and tricks above to get started.